Starting in 1947, with Emil Lionelle, U.S. Soil promotes healthy lifestyles focused on the building blocks of life. Over 60 years and 5 generations later, it is still family owned and operated. For us, sustainable agriculture isn't just a recent fad, but a lifestyle passed down from generation to generation. When people ask us about our product, we can tell them countless stories of proud farmers who firmly believe in our product.
Planters II is a 100% natural product that "really works". A product that is registered, tested and proven by customers around the world. In business for over 60 years, we are here to stay. We are proud of our product, and we know our product promotes a healthy lifestyle without all the additives. Remember, by investing in Planters II, you are investing in your family, your farm, and your future!
Over the years, we have managed more than three research laboratories, started the trace mineral revolution, been the leader in sustainable agriculture, had spokesmen from William A. Albrecht to Joel Salatin, and helped shape the industry. Curious about some of our history? Watch a video from our company spokesperson from the 1970s. You may know him.
Processing Facility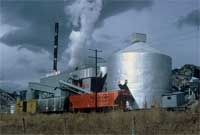 Near Salida Colorado, the Planters mineral could have only formed due to the unique and complex geologic conditions in the area, making it truly a unique product for your use and benefit. The facility for processes the Planters mineral into Planters II was designed by Joseph E. Lionelle in his early 20s. He was told that it would be very difficult to granulate, and using his expertise, he not only figured out a way to do it, but a way that still is difficult to duplicate today!
Quick Facts
The Planters II deposit contains roughly 1,600,000 (1.6 million) tons of ore.
The Planters II mill can process 200 tons finished product per shift (600 tons / day).
Our binding agent acts as an additional growth agent for microbial life.
The mine sits on top of one of the hottest geothermal zones in the State. In fact, the Planters II mineral is still baking!
Through the combination of technology and nature, we are able to meet any customer demand providing product for your needs and benefits. Wish to join our team? Visit the dealer page to see if you have what we it takes, and then contact us.